I talked all that trash about Yankton but they had a few things worth seeing, including this intricate mural.
Tennessee artist Mickey Harris
painted the series of arches that depict images of South Dakota from riverboats to wildlife to Mount Rushmore. One of the coolest things about this mural is how some of the animals look like they are stepping right out of the mural. I was lucky enough to find an article about how the artist did his work from the Yankton Daily Press & Dakotan, here's a quote:
The mural was completed with a variety of different artistic implements, Harris said.
"We use big spray guns to put base coats on, we use automotive-size to paint the clouds, we use rollers, we use paintbrushes, and we use the airbrush to come in and do the final details," he said. "We also use cement to mold things in. Then we'll come back and put a clear over it to protect it."
Harris said this project presented several challenges.
"First of all, there was the texture and the age of the brick," he said. "We had to really clean the brick with high-pressure power washers four times and knock off a lot of the old paint."
The texture of the brick also presented a challenge.
"(It's) being so rough that it's difficult to do the detail of certain things," Harris said. "But we use that to our advantage on the areas that we fill with cement. Allowing that rough texture and the other part definitely creates an illusion of depth."
Harris is an internationally recognized artist and has done many projects for the United States Air Force and even
the Pentagon
.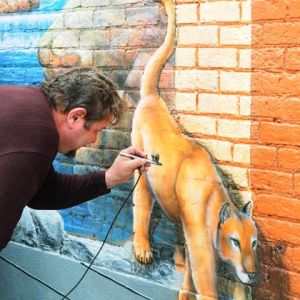 (photo courtesy of Yankton Daily P&D)
Linking up to
Monday Mural,
can't wait to see what my friends around the world have to offer!