I can't decide whether this pose is "I dropped my contact lens" or "Someone just punched me in the stomach" or "Your Highness I am at your service".
For those who missed it, Reno became our destination thanks to an exhibit now showing at the
Nevada Museum of Art.
Photography is not allowed in the galleries, so some of the photos shown below will be borrowed from the museum's and artist's websites. The outdoor sculptures were all ours to goof around with though.
selfie alert!
Once inside the museum we got the 411 from museum staff and started climbing the stairs to the 3rd floor. We loved the 48 foot tall scale model of the Transamerica Corporate Headquarters Tower in San Francisco made from laser-cut stainless steel and ball chain.
But on to the main event. Upon Kahlo's death in 1954, more than 6,500 personal photographs and items belonging to her and husband/artist Diego Rivera were sealed and put in storage. For more than half a century this great collection of personal memorabilia remained hidden from the public. In 2007 this collection was opened and Mexican photographer and curator Pablo Ortiz Monasterio inventoried and catalogued 240 images to create the Frida Kahlo: Her Photos exhibition.
Their website puts it nicely:
The collection of photographs in this exhibition reflect Kahlo's tastes and interests, the experiences she shared with those close to her, and her complicated, but also thrilling, personal life. Viewers get an insider's look, not only through who was behind the camera, in front of the lens or the anonymous nature of some of the work but also through the annotated writing found on the back of many of the photographs.
What I found most interesting was that Frida grew up with photography. Her father, Guillermo, was a professional. He was born in Germany but emigrated to Mexico in 1891. In 1901 he set up a photographic studio, working for
El Mundo Ilustrado
and
Semanario Ilustrado
. He was commissioned by the government to do architectural photographs, probably his best work. He also took photographs of churches with other photographers for a six-volume survey in the 1920s. There were a few portraits he had done of Frida in the collection, explaining in part why she was so comfortable with herself as the subject of most of her own work.
There was lots more to see, including a great view of the city and the Sierra Nevada. The 8000 square foot space is available for rent and people have weddings there. Oh, and there was a sculpture too!
Double Chalice: Joined and Separated by Kendall Buster
Other exhibits we enjoyed included one by Ashley Blalock entitled
Keeping Up Appearances
. I was pretty excited to actually "get" a piece like this.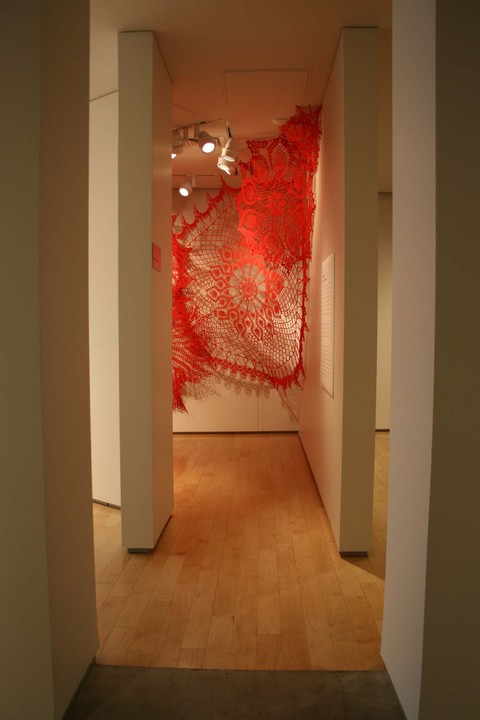 teaser photo from Ashley Blalock's website
Here's the interpretation:
The doilies themselves represent a certain desire to keep up the appearance of gentility to the outside world expressed through the arrangement of objects in the domestic setting. Inherent is a compulsion to arrange and place and decorate in order to control or influence a perceived outward appearance. The red color gives away the futility of such an act and hints at the unease that lurks below the surface of an obsessive need to control and arrange.
Cory seemed to really enjoy Emilie Clark's
Sweet Corruptions
. The work in this project includes the collection and preservation of the artist's family's food waste for one year; an interactive Research Station sculpture that includes an audio piece, specimens, a dissecting microscope (for the public's use) and terraria; a book; and, drawings and paintings. It was like science turned into art. Pretty cool.
My favorite part was the watercolor paintings, Cory dug the display of food waste. There was even lobster!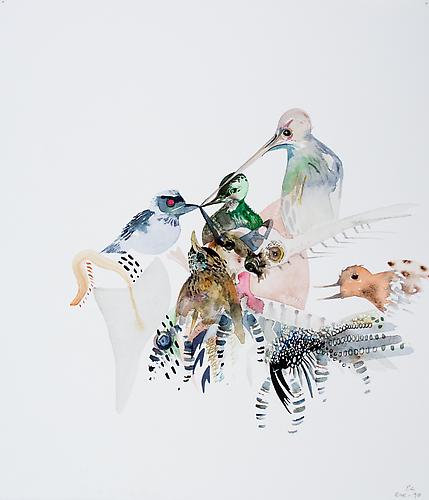 Either she's incredibly talented or I've been looking at the wrong watercolor paintings because I really enjoyed her work.
But probably our favorite exhibit was
Patricia Chidlaw's
Realm of the Commonplace.
From the website:
Chidlaw is an American realist seeking, and finding, profundity in the realm of the commonplace. She takes aims at dignity and a durable beauty amidst the rubble, ruins and soon-to-be-obsolete side routes of America.
Something all us travelers of the nooks and crannies of America seem to gravitate toward as well, am I right?
Want to see them bigger? Go to the link above and you can click on her paintings on the website. Not the same as seeing them in person, the paint really glowed and seemed almost hyperreal.
Don't know how it happened, but that was paintings by two different artists that I enjoyed MORE than the sculptures. I'm starting to think I just have really specific taste. Speaking of painters I like, don't forget to
check out Frida's paintings
!
More from Reno tomorrow, we're heading out to Carson City and South Lake Tahoe today and we'll get to those petroglyphs and Sparks on Saturday.