Well, I guess you can call me a liar today. I was a little too quick to say yesterday that the shutdown wouldn't affect our plans to go to GSMNP. When I voiced that opinion to Wayne he was vehement about not going if the park wasn't open come October 18th. Goodness knows that I don't always cave to his ultimatums, but he is the one who works all the overtime and his big vacation of the year shouldn't be spent in frustration. Hopefully it will not be an issue. I see today that the Republicans tried to tempt Obama by offering up tasty tidbits like the National Parks. Negotiating with terrorists is madness though, as Obama obviously knows. He is sticking to his plan and I'm sure eventually the Republicans will feel the pressure from their constituents and quit trying to hold the country hostage. Will it be in time for the leaf peepers like us? We'll just have to wait and see.
I went for a walk this evening on the bike trail that is just a few miles from our house with my neighbor Margie. It was hot today, around 80 degrees and a bit breezy as well. I would have preferred a forest walk with all that wind, but a prairie walk was what I had to work with.
I was surprised to see a few coneflowers that hadn't entirely lost their petals, but most were very much done.
I even saw a lost Monarch. I've been looking hard everywhere I go this year and haven't seen but a handful all summer. It was nice enough to pose on a colorful background for me too.
When we got to the 1.5 mile marker, I used to trail intersection post as a place to attach my gorillapod to see how it worked above ground level.
Not the greatest picture, bad light, sunspot, little blurry, but Margie was getting impatient with my antics and I was happy just to experiment a little before we turned around.
Before we left for that 3 mile walk I was on the internet trying to come up with an emergency alternate vacation plan if need be. I REALLY don't want to! Fall color later in October is harder to come by, but those are the dates we are stuck with. I was thinking Kentucky State Parks such as Cumberland Falls or maybe even Blackwater Falls State Park in West Virginia. Check out this image I found!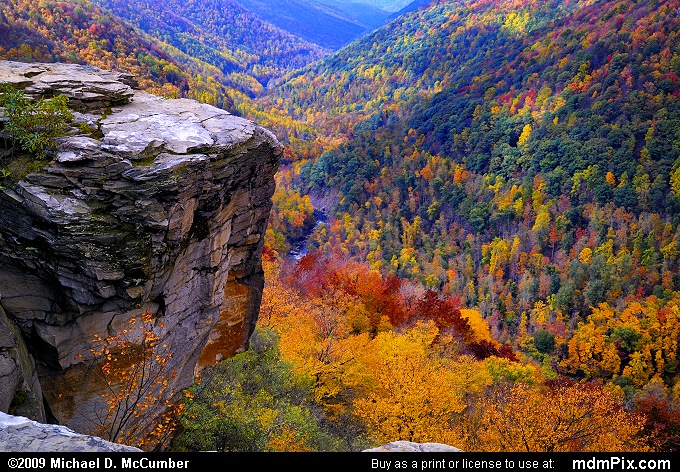 West Virginia, never knew. Might be our backup plan.