We may have stayed in Minnesota, but we made the half hour drive in to Sioux Falls two out of our three days there. One of the main attractions is Park Falls, which highlights the namesake of the town and some of its local history.
great view of the falls from the tower - beware the gift shop!
Since we have a closer up image of me than usual, let me digress just a moment. Wayne is one of those awful patients, that stubborn 1% who refuses to adapt to no-line progressive lenses. I've forced him to try 4 different times, each time just to have to remake them into computer only lenses. He now has 3 different powers of "readers" lying around the house, but only wears glasses for distance when he's driving his work truck. (Which he then has to take off and put on another pair to use his laptop for work orders.) When we travel I do the packing and those readers all stay at home, forcing him to wear the pair of lined bifocals I made him keep last year to have something that was somewhat multipurpose. So, I'm reading my Kindle in the camper and he comes over to give me a kiss and says, "Your face looks old today." My reply was, "my face looks old every day, you just never see it well because you won't wear your bifocals!"
Before anyone is offended on my account that he said I looked old, I'm okay with the fact that I'm not a youngster anymore and this upset me a lot less than the fact that he won't wear his glasses! While we've been touring around I've had to read everything for him, even the giant outdoor menu at a restaurant. Really? Wear your glasses!
 
Mahogany granite sculpture - hydroelectric building converted into cafe at back

The first attempt to settle a town here at the falls on the Big Sioux River in the 1850's was thwarted by the Civil War, conflicts with native tribes, and a Depression which discouraged settlers from making their way here. The town was abandoned in 1862. In the early 1870's people started arriving again and the town really took off in the late 1870's with the arrival of the railroad.
In addition to the ruins of the electric plant that was here, there is the turbine room from the Queen Bee Mill and traces of the supports for the flume that ran to it.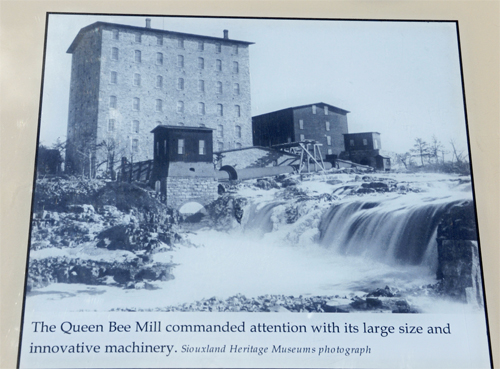 The Sioux Quartzite exposed here on the river is on the pinker side, and of course a lot of it was quarried in the area long ago. The stone is incredibly hard, almost as hard as a diamond, which made it more expensive to work with and eventually other materials replaced it. Now its quarried mostly for gravel uses in the area, you can see bits of it in the pavement.
As we were leaving the park I got my first close up look at one of the many sculptures in town entitled "For Which It Stands". It was voted the 2006 People's Choice winner from their local SculptureWalk. Upcoming posts will have lots of sculptures, starting with that one!